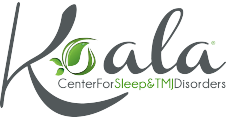 IS SNORING KEEPING YOUR
PARTNER AT A DISTANCE?
Snoring can hurt your relationship and your heart.
Untreated sleep apnea increases your risk of heart attack by 5x. Ask us about treatment options you can live with.
Directions to Koala® Centers For Sleep & TMJ Disorders in Bloomington, IL


Check Our Patient Reviews
J. Todd Gray, DDS, D.ASBA
Dr. J. Todd Gray is a general dentist and a Diplomate with the American Sleep and Breathing Academy. He is also an active member of the American Academy of Dental Sleep Medicine and the American Academy of Craniofacial pain.
He graduated from the University of Iowa College of Dentistry in 1989 and then completed a General Practice Residency at Hines VA Hospital in Maywood, IL 1990. He practiced general dentistry for years in East Peoria before moving his practice to Bloomington in 2015. In the past several years, his continuing education and focus has been centered on the area of sleep related breathing disorders and Temporomandibular Joint Disorder (TMD). Dr. Gray has devoted his practice in Bloomington to the management of snoring and sleep apnea and a conservative treatment of TMD, head, neck and facial pain with a custom oral appliance.
Dr. Gray holds himself to the highest standard of care and is truly passionate about improving the lives of his patients. He values building relationships with his patients, colleagues and the community. Dr. Gray wants to help YOU sleep, breathe and live well!
Dr. Gray is married to his wife Tanya and has two sons Alex, 18 and Josh, 13. He currently resides in Normal. He is a die-hard Iowa Hawkeyes and St. Louis Cardinals fan! Dr. Gray also works part time as a general dentist for the East Peoria Dental Group in East Peoria, IL.
Dr. Todd Gray Is the owner of Koala® Center For Sleep & TMJ Disorders in Bloomington, IL